Inspired by the Barbie* Movie.
On top of being a foodie, I'm also a self-described film buff. If you know me at all, you know I've already seen the Barbie movie, multiple times. And I'm not ashamed to say that I had quite the Barbie doll collection as a kid. It maaaay have taken up half my closet. All of this got me thinking, "What dish would make the best dinner at Barbie's dream house?" After some serious pondering – and a little soul-searching – I think I have the answer: this caramelized cauliflower orzo salad with grilled broccolini. To me, Barbie is hip, healthy, and cosmopolitan. And this eclectic dish is all of the above. We may never know if Barbie and Ken would really chow down on this colorful meal, but you'd better believe I have.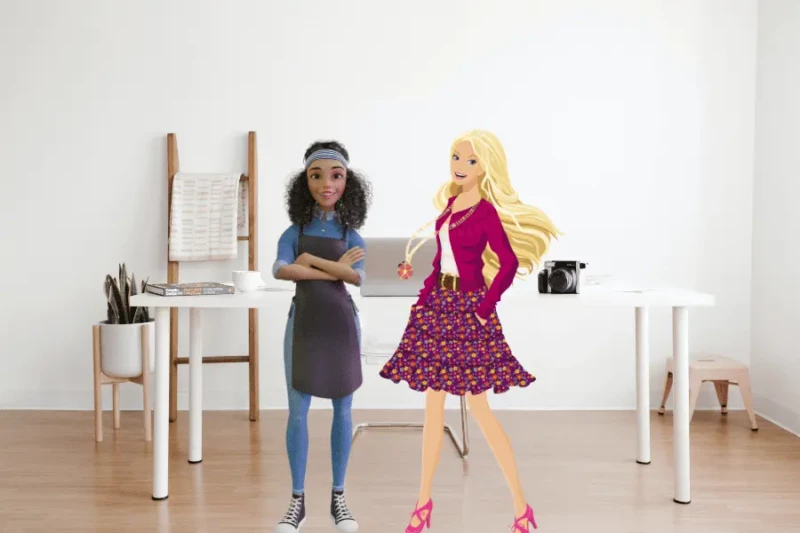 ---
KITCHEN ESSENTIALS
Grill (Charcoal or Gass)
Sautee pan
4-quart saucepot for boiling seasoned water
Colander
Spatula
INGREDIENTS
1 head of cauliflower
Salt and pepper to taste
1-ounce Cumin
1 ounce of Coriander
Pinch of salt
Pinch of pepper
8oz of orzo
1 can of hominy
1 cup of frozen peas
Garlic cloves of garlic
1 bulb of fennel (core removed and julienne)
4oz olive oil
Whole cumin seed
1 julienne onion
1oz of toasted walnut oil
2 bunches of broccolini
3 oz of red wine vinegar
3 quarts of boiling water
DIRECTIONS
First, the water for the orzo needs to be put on a burner. The water should taste like the sea, When the water is boiling add the orzo into the water and cook for the allotted time that should be on the box (approximately 5 minutes) once fully cooked pour contents into a colander run cold water, and pour 2 oz of olive oil onto orzo and set aside. The orzo may clump up so it is best to cook it in advance that way if it does clump up you can massage them out.
In a separate Sautee pan add cumin and chopped garlic to a cold pan with ½ an ounce of oil. Turn on stove to medium heat and stir when it starts to sizzle add onions and fennel hominy and peas and continue to cook until the onions are soft let cool this will eventually be folded into the orzo.
Make sure the grill is scorching hot before you add the cauliflower
For the cauliflower first cut off the leaves and add enough olive oil to the cauliflower so that it covers all the florets next add kosher salt and cumin powder and coriander. massage the cauliflower until it is fully covered within the spice mixture cut cauliflower in half and cut a little bit off the outside so that the stem is exposed. Add a little more olive oil to the stem and cross section of the steak and place both on the grill. Look for color or caramelization on the outside and on the stem it when evenly cook use tongs to flip to the opposite side it may take a few flips but will eventually soften and caramelize. It usually takes approximately 25 minutes to cook but will vary depending on the size of the cauliflower.
Broccolini is a cross between broccoli and asparagus I personally love it is excellent steamed or sauteed but I think it really shines best charred on the grill. The tips can sometimes be really fibrous so I tend to cut off the tip in a bowl. Stir with canola oil salt and pepper and place on the grill you can do it while the cauliflower is cooking. It takes ten minutes.
When cauliflower is almost done take ingredients that were sauteed in a pan, pour into a mixing bowl with orzo, and with a rubber spatula fold/mix all ingredients. Add walnut, oil, red wine, vinegar, and season to taste.
Enjoy!
*Barbie is a registered trademark of Mattel. Jade and Zelda, LLC is not affiliated with Mattel or any of its subsidiaries. This recipe creation is not an attempt to indicate a partnership between Chef Jade and the brand of Barbie or the owner of the Intellectual Property.