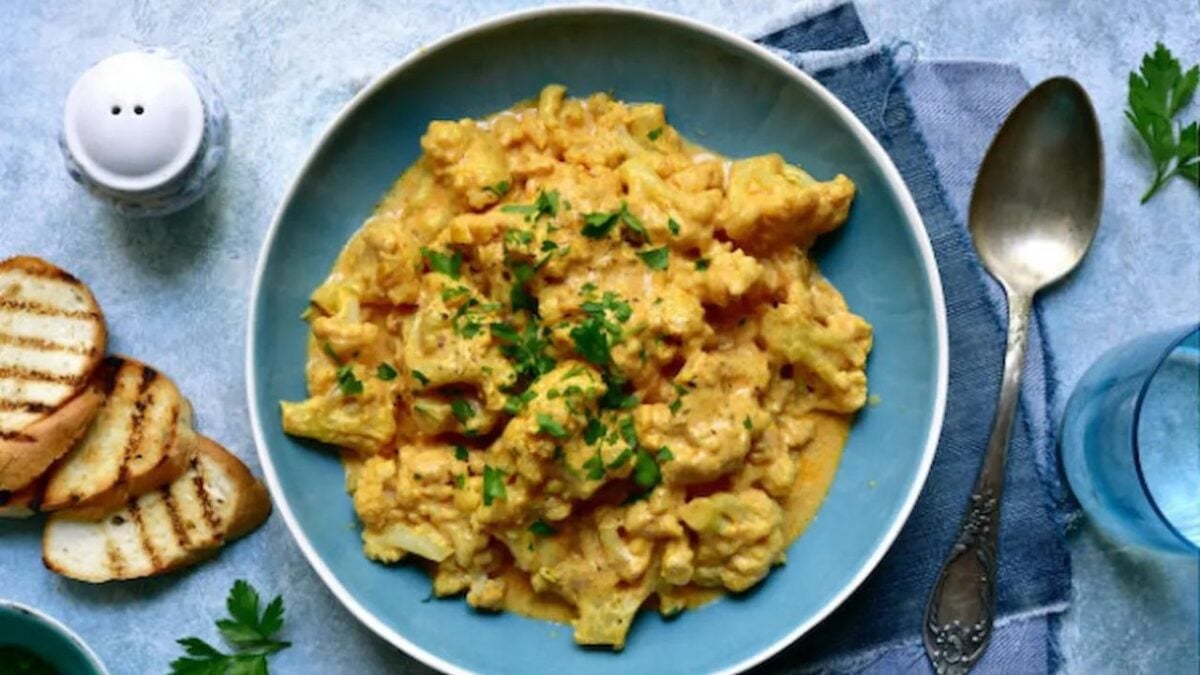 Savor the Sensational: Vegan Methi Chicken Curry with Creamy Fenugreek Onion Sauce Recipe
Indian cuisine is a treasure trove of flavors and aromatic spices that have captivated palates worldwide. Among its culinary delights, the classic Methi Chicken Curry stands out as a rich and indulgent dish. But what if we told you that you could savor all the deliciousness of this traditional recipe in a vegan, plant-based form? Enter our Vegan Methi Chicken Curry with Creamy Fenugreek Onion Sauce—an exquisite fusion of flavors, textures, and culinary traditions. In this blog post, we'll embark on a journey into the heart of this dish, exploring its origins, the art of crafting it, and why it's a must-try for both vegans and curry aficionados.
A Tale of Methi Chicken Curry
Methi Chicken Curry, a beloved dish in Indian cuisine, features tender chicken pieces simmered in a creamy, fenugreek-infused gravy. It's known for its rich, robust flavors and complex spice profile. Traditionally prepared with meat, this curry presents an enticing challenge for vegan cooks, but one that we're excited to tackle.
The Vegan Transformation
Creating a vegan rendition of Methi Chicken Curry requires thoughtful ingredient selection and culinary ingenuity. At the heart of our recipe lies the desire to maintain the essence of the original while honoring vegan values. In this adaptation, tender soy curls step in as a protein source, making it an excellent alternative to traditional meat.
The Magic of Fenugreek
Fenugreek, or "methi" in Hindi, is a star ingredient in this dish. Its distinctive, slightly bitter taste lends a unique depth of flavor to the curry. Fenugreek leaves are readily available in many grocery stores and markets, making it an accessible choice for home cooks. In our Vegan Methi Chicken Curry, we harness the enchanting aroma and taste of fenugreek, paying homage to its role in Indian culinary heritage.
The Art of Crafting Vegan Methi Chicken Curry
Crafting this delectable curry involves several key steps:
1. Soy Curl Marvel: Begin by rehydrating and marinating soy curls, transforming them into tender, meat-like morsels that will absorb the curry's flavors.
2. Aromatic Spices: Toast a blend of aromatic spices, including cumin, coriander, and garam masala, in a fragrant base of onions, garlic, and ginger.
3. Creamy Delight: Create a luscious, creamy sauce with fenugreek leaves, tomato puree, and a plant-based cream substitute, ensuring a rich and satisfying texture.
4. Harmonious Simmer: Allow the soy curls to simmer in the sauce, absorbing the complex flavors and infusing the curry with the essence of fenugreek.
5. Serve with Love: Dish up your Vegan Methi Chicken Curry alongside fragrant basmati rice or warm naan bread, garnishing with fresh cilantro for a burst of color and freshness.
Savoring the Vegan Methi Chicken Curry Experience
Vegan Methi Chicken Curry is a testament to the adaptability of traditional recipes to accommodate modern dietary preferences and ethical choices. Whether you're a dedicated vegan or someone eager to explore the vibrant world of Indian cuisine, this curry offers a rich and satisfying experience that's perfect for any occasion. So, gather your ingredients, follow our detailed recipe, and embark on a culinary journey into the heart of Indian flavors—a fusion of tradition, innovation, and compassion on your plate.
Vegan Methi Chicken Curry with Creamy Fenugreek Onion Sauce
Indulge in the flavors of this Vegan Curry, featuring soy curls and a luscious Fenugreek Onion Sauce, reminiscent of the classic Indian Methi Chicken. This straightforward Instant Pot recipe offers a gluten-free and nut-free option, and for those with soy sensitivities, a soy-free alternative is also available.
Ingredients
1

tsp

vegetable oil

3

bay leaves

3

green cardamom pods opened

3

cloves

2

inch

cinnamon stick

1/2

red onion

chopped

1

medium tomato

1

tbsp

tomato paste

4

cloves

of garlic

1/2

inch

ginger

1

package of vegan chicken

1

green chile

3/4

cup

water

1

tsp

cayenne pepper

1/2

tsp

turmeric

1

tsp

ground cumin

3/4

tsp

salt

1/2

tsp

brown sugar

2

cup

soy curls

dry, not rehydrated

1/2

cup

Non dairy yogurt

3/4

cup

coconut milk

3

tsp

dried fenugreek leaves

kasoori methi

garam masala to taste

1/4

cup

cilantro for garnish
Instructions
Add the oil to a pot and wait for it to get hot. Add the whole spices and mix for 30 seconds until fragrant, then add the minced onions and saute until translucent.

Put the tomato, tomato paste, garlic, ginger, chili with 3/4 cup water on your high-speed blender.

Add ground spices and mix them in. Add tomato mixture to the IP and mix it in. Switch off saute mode.

Add the dried soy curls, salt, sugar, dairy-free yogurt and mix in. Close the lid and pressure cook for 15 mins, natural release.

Open the lid and add the coconut milk and bring to a boil. Taste and adjust salt and flavor.

Mix the garam masala and fenugreek leaves. The fenugreek leaves can be toasted in advance and mixed as needed.

Serve garnished with cilantro, cayenne pepper, and some freshly cut lime wedges. Tastes best with toasted bread.
Kitchen tools
If you enjoyed this recipe or have suggestions on how we can improve it, please leave us a comment below. Also, make sure to check out other dishes I've created or stories I've written about food culture – here.