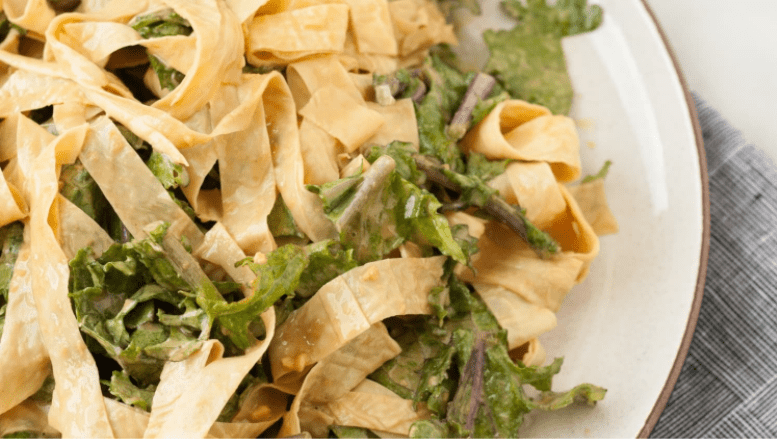 Print
Vegan Sesame and Dino Kale Yuba Noodles
Ingredients
1/2

pack of Hodo Yuba sheets

1/2

bunch of lacinato kale

1/3

cup

tahini

1/3

cup

rice vinegar

3

T

gluten-free tamari

1

t

sesame oil

1

t

sugar

1/3

T

salt

5

g

ginger

3

cloves

garlic

Optional to garnish: julienned cucumbers

toasted sesame seeds, chopped parseley and/or cilantro, red chili flakes
Instructions
Chop yuba to desired width, – you can use a 1/2″ wide noodles. Toss cut yuba into a large mixing bowl and pull apart to separate.

Rinse the kale and strip the main vein out, reserve to snack on, stir-fry or pickle! Cut similarly to the yuba noodles in width (hint: cut lengthwise to get longer rather than shorter strips.) Toss chopped kale in with the yuba and set aside.

Make the sesame sauce: Peel ginger and grate, conserving the liquid as well. Peel and mince the garlic, add all other ingredients and puree together.

Add sauce to yuba and kale and mix well! Garnish as you like. As a side dish, serves 4-6 and as a main, 2-3.

Sesame sauce can be prepared up to a few days in advance. The salad can be prepared a day in advance – yuba and kale both hold up very well, and the kale actually softens up a bit with time!