Las Vegas is known for many things: casinos, spectacular shows, over-the-top nightlife, and bad decisions (hey, what happens in Vegas stays in Vegas, as they say!) For foodies like me, Sin City is most famous for one thing: buffets. No city in America gives you a better opportunity to eat your weight in delicious food. But how did Vegas become so synonymous with the all-you-can-eat buffet? For that matter, how did buffets get started in the first place? Let's dig in…
The Origins of the Buffet
"Buffet," like so many of our food terms, is a French word. Believe it or not, it refers to a piece of furniture: the wooden sideboard that food is laid out on for self-service. While the word itself is French, buffet-style dining is believed to have origins in 16th-century Scandinavia. More specifically, it has its origins in the smorgasbord, a small side-table on which light appetizers and Schnapps were laid out prior to the main meal. Like our current buffets, these dishes were self-serve.
In the 18th and 19th centuries, this concept became increasingly popular in continental Europe—especially in France. Unlike the Swedish smorgasbord, the French buffet became a way to serve entire meals, not just snacks and appetizers.
Buffets In America
The all-you-can-eat buffet craze reached American shores in 1939. Like so many culinary innovations (hot dogs, ice cream cones), Americans were formally introduced to the concept at the World's Fair. The fair's "Swedish Pavilion" featured an all-you-can-eat Smorgasbord that became a huge hit with fair goers. For a hungry nation still emerging from the Great Depression, the buffet's "quantity over quality" approach had broad appeal.
Buffets In Vegas
Of course, buffets quickly became a sensation in Las Vegas, a town that was emerging as America's premier pleasure destination (a distinction it arguably still holds to this day). The one that started it all in Sin City was the Buckaroo Buffet, which opened in the El Rancho Vegas casino in 1941. The El Rancho Vegas, by the way, was the first casino to open on the Vegas strip: Vegas casinos and Vegas buffets have been intertwined since the beginning. For only $1, diners could chow down on a magnificent spread that included steak, lobster, and shrimp. Not only that, but diners could partake of this feast at all hours of the day or night: like so many modern casino buffets in Las Vegas, the Buckaroo was open 24 hours. By the 1950s, several other casinos had opened on the Strip, most of them boasting all-you-can-eat buffets.
The 1980s and '90s saw a marked shift in Vegas buffet culture: buffets went from being places to chow down on relatively affordable grub between rounds at the blackjack table, to places offering destination-worthy world-class food. Vegas diners now expect quality and quantity when the go to a buffet. They also expect a vast assortment of cuisines from all over the world—one that reflects a cosmopolitan destination like Vegas. Buffets like Treasure Island's Dishes (which still exists as the Corner Market) and Rio Carnival's World Buffet helped bring about this trend.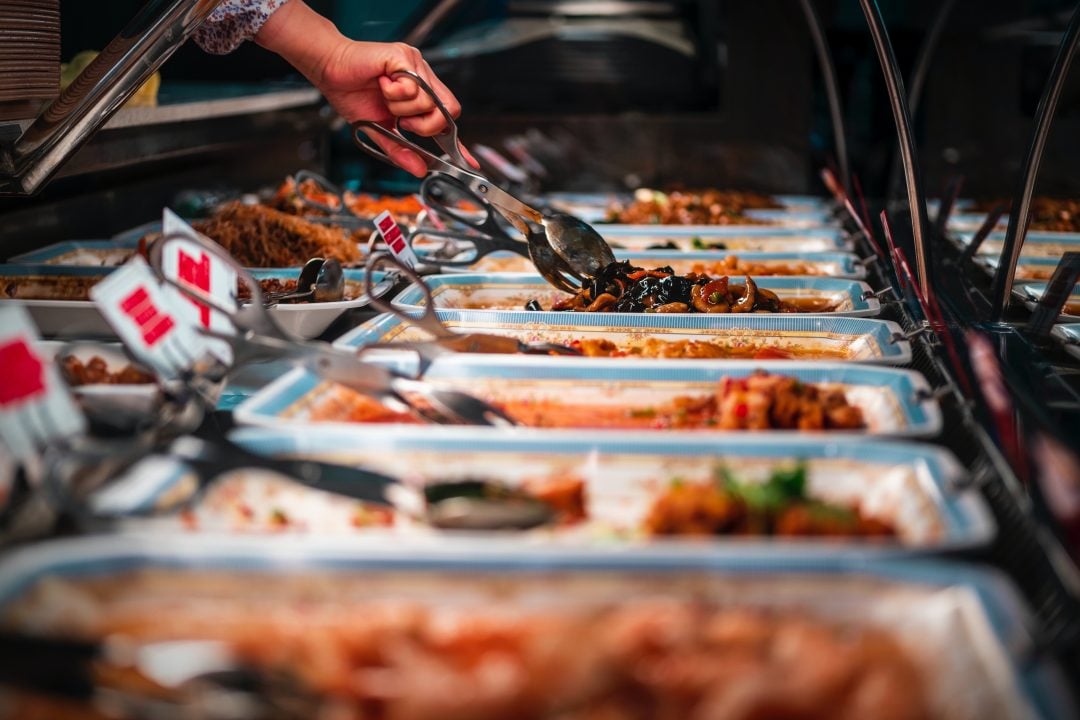 Top 5 Vegas Buffets
Now there are so many buffets on the Strip alone that it's nearly impossible to keep track. Luckily, you don't have to: Here are some of the most famous, and delicious, buffets that Las Vegas has to offer.
1. The Buffet At The Wynn
These days, when people think of Las Vegas buffets, they think of decadence. And the buffet at the Wynn Hotel and Casino is one of the most decadent around. Currently, the buffet offers over 120 dishes, including its famous spaghetti and meatballs made using Frank Sinatra's family recipe. And for dessert, you can dip into the buffet's chocolate fountain. Does it get any more decadent – and more Vegas – than that? I think not.
2. Wicked Spoon
Housed inside The Cosmopolitan, Wicked Spoon is one of the Strip's newer buffets, but it has quickly established itself as one of the top contenders for best buffet in Vegas. While the décor at Wicked Spoon is decidedly sleek and minimal, the food is as lavish as they come. Foodies the world over flock to Wicked Spoon for creative, unique dishes that are hard to find at all-you-can-eat buffets. I'm talking bone marrow and squid ink pasta. Even a vegan such as myself can't help but be impressed.
3. MGM Grand Buffet
The MGM Grand has stood the test of time as one of Vegas' most iconic casinos, and its buffet is no different. From pancakes to crab legs, the MGM Grand Buffet offers exactly the kind of food that people have come to expect from Las Vegas buffets. The fact that this is relatively standard buffet fare – especially compared to places like Wicked Spoon – shouldn't turn you off, however. This is classic food, expertly prepared.
4. Bacchanal (Caesar's Palace)
No Vegas-related list is complete without Caesar's Palace. This list is no exception. Bacchanal, which resides in the iconic casino is one of the most famous and beloved buffets on the Strip. At 600 seats and 25,000 square feet, its certainly one of the biggest buffets in Sin City. Bacchanal features nine interactive kitchens where dishes are prepared and plated to order. Recently, Bacchanal underwent a multimillion-dollar renovation. You could spend weeks at a buffet like this and still not make a dent in all the offerings. Not that I'm here to stop you from trying.
5. Garden Buffet
We're actually going off-Strip for this one. The Garden Buffet at the Southpoint Casino (a few miles south of the main drag) takes diners on a culinary tour of the world, with stops in America, Mexico, Italy, and China. The buffet offers a seafood night on Fridays, as well as a prime rib and champagne brunch on weekends. While it may be a little far from the action, this buffet is worth venturing out for.
If you liked this article, then you may want to check out my post about Summer Travel Tips, at least while the sun is still out! – https://cookingwithjade.com/1827/summer-travel-tips