Bali: The Indonesian island with its lush beaches is one of the most beautiful spots on the planet. With all of that beauty, of course, comes lots of tourists. I'm not here to tourist-shame, but if you're like me, you like to go beyond the typical tourist activities and immerse yourself in a destination, experiencing a place as much like a local as possible. When in Bali, do as the Balinese do. Here's how to go about it.
Go Off The Beaten Path
Bali is, of course, known for its beautiful beaches. Many visitors to the island spend almost their entire vacation on the beach. Believe me, I understand the temptation: with beaches this great, sometimes you just don't want to leave. But if you spend your whole Bali vacation just relaxing by the waves, you'll miss so many of the other incredible things that the island has to offer. That's why I recommend going "off the beaten path" a bit and exploring as much of the island as you can during your stay. For example, you could check out the Lempuyang Temple. This ancient Hindu Temple – also known as the "Gate of Heaven" – boasts amazing views of the island. But you'll never get to see it if you stick to the beach all trip. Other memorable activities for the curious adventurer include fishing, biking, and snorkeling.
I also recommend exploring Bali's many cities. The island doesn't have any truly massive cities like Jakarta (the Indonesian capital), but it does have some exciting urban centers like Ubud and the provincial capital of Denpasar. The cities are also some of the best places to explore the local cuisine. Speaking of which…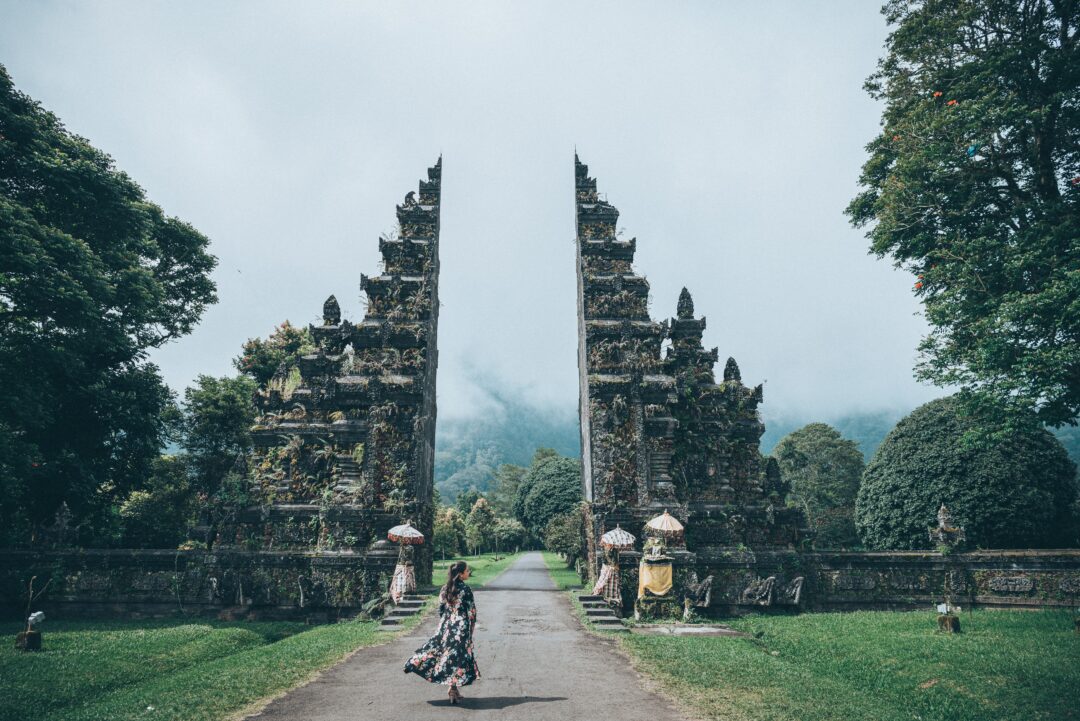 Eat Like A Local
Obviously, food is an important part of this blog. It should come as no surprise, then, that I recommend eating like a local while you are in Bali. One of the best places to do this – no matter where you are vacationing – is to go to a local market. Luckily, Bali has many of them. The Gianyar Night Market, for instance, has dozens of stalls selling Indonesian/Balinese dishes—and for affordable prices too. I also heartily recommend checking out Bali's warungs: small, local restaurants that often feature communal seating. Not only is this a great way to experience the local cuisine; it is also a great way to meet Balinese locals, as well as other travelers.
Explore Alternate Modes Of Transportation
There are rideshare apps ("Grab" being a popular one) as well as taxis available in Bali. If you only take a car around, however, you will miss out on some great adventures here on this beautiful island. That is why I suggest exploring alternate forms of transportation while in Bali. Doing so might even save you money! If you're feeling a little adventurous, motorbikes are a great way to zip around the island and can be rented for under $5 a day. Note that an international motorcyclist's license is required to operate a motorbike in Bali, but most rental companies can help you obtain one for a small fee. A bicycle rental is even cheaper – and involves less red tape – than a motorbike rental, though you won't be able to get around the island as quickly. If you do rent a bike, I recommend getting one that can handle multiple types of terrain, as you may want to explore Bali's backcountry as well as its cities.
Top 5 Vegan-Friendly Indonesian Dishes
Of course, one of the best things about exploring a place like Bali (or any place, for that matter) is sampling all of the delicious native dishes. This is true for vegans and omnivores alike, as Indonesia has plenty of vegan-friendly dishes. Here are my top five.
1. Tempeh
You've probably seen – or at least heard of – tempeh here in the States. Did you know that this trendy tofu-like dish, made from fermented soybeans, comes from Indonesia? This popular dish is sold at markets all over the country and can be eaten as a snack, on a sandwich, or as a whole meal over rice. Indonesians typically marinate and deep fry tempeh, before eating it with chilis or sambal (a spicy chili sauce that really awakens the tastebuds).
2. Gado-Gado
Gado-Gado, which translates to "mix-mix" is a popular Indonesian salad. In traditional Gado-Gado, vegetables like sprouts, spinach, cabbage, and potatoes are often combined with the aforementioned tempeh and fried tofu and served with a rich peanut dressing. While traditional Gado-Gado often includes hard-boiled eggs, vegans can forgo this option. Gado-Gado is a vibrant and healthy dish that you will be sure to want more of.
3. Gudeg
Gudeg is a traditional Javanese dish (Java being Indonesia's most populous island) that I simply have to eat every time I visit Indonesia. This rich, sweet dish is made from unripe jackfruit (a large, meaty fruit sometimes used as a substitute for pulled pork here in the U.S.) stewed in palm sugar and coconut milk. Often served with rice, Gudeg eats like dinner and dessert.
4. Sayur Lodeh
Sayur Lodeh is another popular dish in Indonesia. This complex stew is made from a coconut milk broth and loaded with fresh vegetables like carrots, long beans, and jicama. Served over rice, Sayur Lodeh can make for a tasty vegan meal. This dish sometimes includes non-vegan ingredients like eggs, dried shrimp, and shrimp paste, but vegan-friendly adjustments can be made. This dish is often eaten at the end of the Muslim fasting month of Idul Fitri (bonus fact: Indonesia has a larger Muslim population than any other country).
5. Bakwan Jagung
Bakan Jagung is a crispy corn fritter that can be made with egg batter (vegetarian) or without (vegan). It's a relatively simple dish to prepare—one that you can make at home without traveling to Indonesia. That being said, I definitely recommend trying some in Indonesia, where it is usually eaten as a snack or side dish (with chili peppers for added heat, of course).
If you enjoyed this article or have suggestions on how we can improve it, please leave us a comment below. Also, make sure to check out other articles I've created or stories I've written about food culture – here.