These dishes are the go-to traditional dishes that fans of Indian food cook all the time, but with a vegetarian or vegan twist of course.
1. Bombay Potatoes
INGREDIENTS
2 tbsp coconut oil
1 tsp yellow mustard seeds
1 tsp of cumin seeds
2 shallots (finely diced)
1 tsp ginger (grated)
½ tsp turmeric
4 small potatoes, peeled and cubed
½ cup tomato puree
½ to 1 tsp cayenne pepper
2 tsp curry powder (taste and add more if you wish)
Pinch of salt to taste
2 tbsp cilantro (optional, for garnish)
DIRECTIONS
Place cubed potatoes in a saucepan and cover with water. Cover with a lid and bring to a boil over medium-high heat. Once water is boiling, cook until potatoes are just tender, 5 to 10 minutes. Drain well and set aside.
Heat the oil in the skillet. Add mustard seeds and shallots and toast for a 2-3 minutes until slightly soft. Add ginger and turmeric. Saute for 30 seconds, then add the potatoes.
Add a pinch of salt, mix and cover the skillet with a tight lid. Keep the heat to the lower side.
Add the tomato puree to the skillet along with the cayenne and curry powder and mix well. Continue cooking on medium-low heat for another 10 minutes and place the lid back on the skillet, making sure to stir a few times during cooking. The potatoes at the bottom of the pan should crust a bit but they shouldn't burn.
Once the potatoes are fully cooked, take the lid off and continue stir-frying, keep it at low heat. Add a pinch of salt to taste.
Turn off the heat and garnish with cilantro (but optional). Serve warm.
2. Masala Lentils (Vegan)
INGREDIENTS
1 cup brown lentils washed and drained

3 cups water

3 to 3 tsp safflower or other neutral oil

1 cup finely chopped red or white onion

7 cloves garlic chopped

1 tsp ground cumin

3 tsp ground coriander

1 tsp ground cardamom

1 tsp ground cinnamon

1 tsp fenugreek leaves (or 1/8 teaspoon fenugreek seeds)

2 tsp sweet or hot paprika

1 tsp nutmeg

1 tsp ground black pepper

2 tbsp sriracha or other hot sauce to taste

3 tbsp water

2 cups chopped tomato

1 tsp salt

3 tbsp chopped cilantro for garnish

2 tbsp vegan butter for garnish (optional)
DIRECTIONS
Combine the lentils with 2 cups of water in a saucepan. Partially cover and cook over medium heat until the lentils are tender, 25 to 30 minutes.

While the lentils are cooking, make the tempering. Heat the oil in a skillet over medium heat. Add the onion and cook until golden brown, 5 to 6 minutes.

In a blender, combine the garlic, cumin, coriander, cardamom, cinnamon, fenugreek, paprika, nutmeg, black pepper, sriracha, and 2 tablespoons of water. Blend to combine well. Add this paste to the onions in the skillet. Cook until fragrant, about 2 minutes. Stir in the tomatoes and salt, and cook until the tomatoes are tender, about 8 minutes. Mash the larger tomato pieces.

Add the tempering to the lentils. Bring to a boil over medium heat. Reduce heat and simmer for another 5 minutes. Taste and adjust salt and spice. Garnish with cilantro and vegan butter, if using, and serve hot.
3. Methal Chicken Curry with Creamy Fenugreek Onion Sauce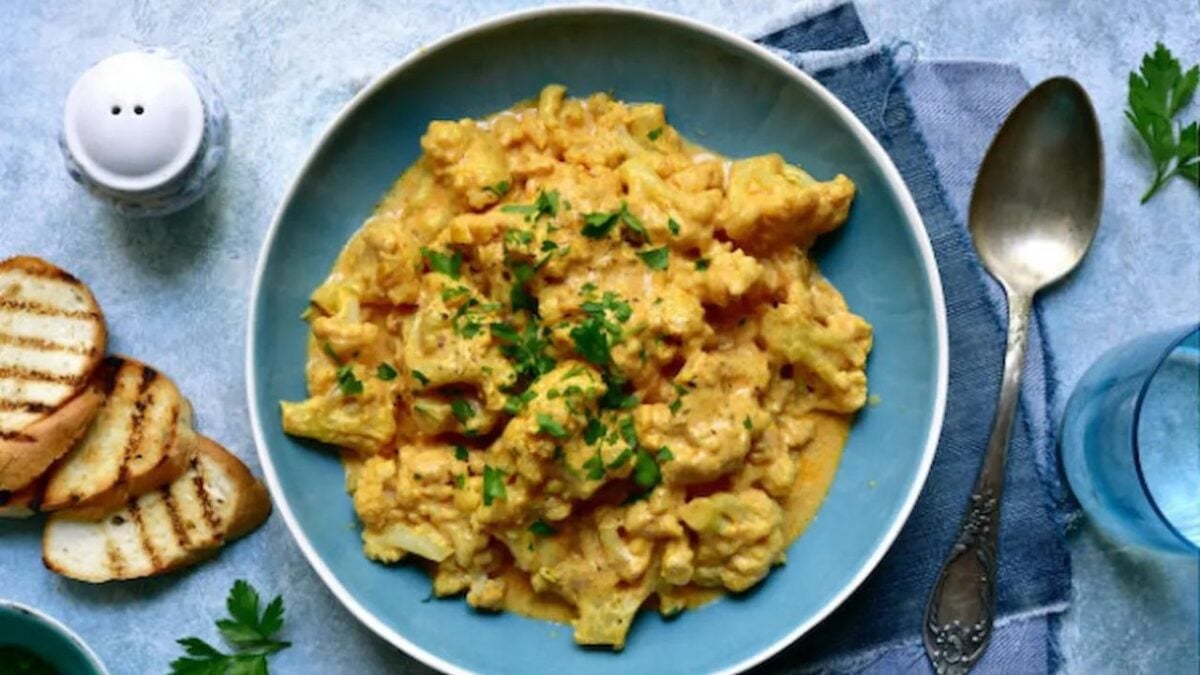 INGREDIENTS
1 tsp vegetable oil
3 bay leaves
3 green cardamom pods opened
3 cloves
2 inch cinnamon stick
1/2 red onion, chopped
1 medium tomato
1 tbsp tomato paste
4 cloves of garlic
1/2 inch ginger
1 package of vegan chicken
1 green chile
3/4 cup water
1 tsp cayenne pepper
1/2 tsp turmeric
1 tsp ground cumin
3/4 tsp salt
1/2 tsp brown sugar
2 cup soy curls (dry, not rehydrated)
1/2 cup Non dairy yogurt
3/4 cup coconut milk
3 tsp dried fenugreek leaves (kasoori methi)
garam masala to taste
1/4 cup cilantro for garnish
DIRECTIONS
Add the oil to a pot and wait for it to get hot. Add the whole spices and mix for 30 seconds until fragrant, then add the minced onions and saute until translucent.
Put the tomato, tomato paste, garlic, ginger, chili with 3/4 cup water on your high-speed blender.
Add ground spices and mix them in. Add tomato mixture to the IP and mix it in. Switch off saute mode.
Add the dried soy curls, salt, sugar, dairy-free yogurt and mix in. Close the lid and pressure cook for 15 mins, natural release.
Open the lid and add the coconut milk and bring to a boil. Taste and adjust salt and flavor.
Mix the garam masala and fenugreek leaves. The fenugreek leaves can be toasted in advance and mixed as needed.
Serve garnished with cilantro, cayenne pepper, and some freshly cut lime wedges. Tastes best with toasted bread.
4. Grilled Naan
INGREDIENTS
DIRECTIONS
Place the yeast in a large bowl or the bowl of a stand mixer. Add the sugar, non-dairy milk, and ½ cup water. Let the yeast stand at least five minutes until it starts to look frothy and "bloomy"
Add the flour and salt to the bowl and begin to knead, slowly drizzling in additional water until your dough comes together in a ball that's just slightly sticky (traces of the dough will stick to your fingers when you touch it). Keep in mind that you may not need all of the water, so don't dump it all in at one go.
Drizzle the oil on top of the dough, turn it over once or twice to make sure the oil coats the dough, cover the bowl tightly with cling wrap or a lid or a kitchen towel and set it aside to rise in a warm place for an hour to 90 minutes.
After the dough has risen, turn it out on your work surface. Knead it lightly, form into a disc and cut into eight even pieces, the way you would a pizza. Roll each piece into a ball, dust each ball lightly with flour, and set them aside, covered, for 15 minutes.
To shape the naan, either roll each ball into a teardrop shape or around with a rolling pin. You can dust your work surface lightly with flour if needed. Or roll each ball into a small disc, then lift the disc by its edges and stretch it gently with your fingers, while letting the dough stretch and fall with the aid of gravity. Continue shaping by moving your fingers along the edges. If you're not used to doing this, it's possible your dough could tear, so be careful. If you do get a tear, patch it up by pressing the dough together and continue shaping with a rolling pin.
Make sure the grill is screaming hot. You can also use a grill pan on a stovetop if you don't have a grill. Place the naan on the grill. You will immediately see it start to bubble up and turn opaque. Put down the grill cover or, if using a pan, cover with a lid. Let the naan grill for a minute, then, using tongs, carefully turn it by 90 degrees to get those lovely cross-hatch grill marks. Grill another minute, then flip and repeat for the other side. Altogether, you should need no more than 3 minutes on the grill for each naan, possibly less.
As soon as you take the naan off the griddle, brush it with melted vegan butter or olive oil. Keep your naans wrapped in a kitchen towel until ready to serve.
You can also reheat any leftover naans on the griddle before serving.
5. Kathal Biryani with Jackfruit (Vegan)
INGREDIENTS –

For The Rice
1.5 cups basmati rice
4 cups water for cooking the rice
water for soaking the rice
one single strand of mace
2 green cardamoms
1 inch cinnamon
2 to 3 cloves
1 tejpatta (indian bay leaf)
salt as required
For Jackfruit Biryani Gravy
3 cup chopped jackfruit (kathal)
1 cup soy, coconut, almond or cashew-based yogurt
½ teaspoon turmeric
½ teaspoon red chili powder
a single strand of mace
a small piece of stone flower
3 green cardamoms
1 inch cinnamon
3 cloves
1 teaspoon shah caraway seeds
2 medium thinly sliced onions
1 medium chopped tomato
1.5 tablespoon chopped coriander leaves
1.5 tablespoon chopped mint leaves
3 tablespoon ghee
Combine 1 inch ginger + 3 garlic cloves +1 green chili and blend into a paste
1.5 to 2 cups water
salt as required
For Layering Jackfruit Biryani
1 teaspoon ghee
3 tablespoon soy, coconut, almond milk
2 pinch of saffron
1 teaspoon rose water
DIRECTIONS – Preparing Rice
Rinse rice till the water runs clear
Soak the rice in water for 30 mins.
Boil 4 cups of water in a pan or pot.
Drain the rice and then add it to the boiling water.
Add all the whole spices – mace, cardamoms, cinnamon, cloves and tejpatta.
Season with salt and cook the rice till the grains are 3/4th cooked. Drain and keep the rice aside.
Once all the steam has gone from the rice, cover the rice.
Chopping Jackfruit
Apply oil on your palms, knife, and chopping board
Chop the jackfruit and remove the seeds
Place chopped jackfruit in a pan or a large bowl of water to prevent discoloration
Preparing Jackfruit Gravy For Biryani
Heat ghee in a Dutch oven or pot
Add all mace, stone flower, cinnamon, cloves, caraway seeds, cardamoms to pot and Saute for 1 minute
Add the sliced onions and cook until they are caramelized
Remove half of the onions and drain them on paper towels.
Saute ginger, garlic and green chili paste for a minute or utill the raw aroma goes away.
Then add the tomatoes, mint leaves and coriander leaves. Saute for 1 to 2 mins.
Add both the spice powders – red chili powder and turmeric powder
Add the chopped jackfruit. Stir and saute for 7 to 8 mins. Then add the beaten yogurt.
Stir and add water. Add salt and cover the pot with its lid.
Simmer the gravy till the jackfruit is cooked and tender.
If the water dries up while cooking, then you can add some water.
Also soak saffron in warm milk and keep aside.
Assembling The Kathal Biryani
In the same Dutch oven or pot, on top of the jackfruit gravy, add half of the fried onions.
Spread a second layer of rice. Add all the rice in this layer.
If you want you can make 4 layers. Then you will have to make these layers in another pan or pot.
Sprinkle the saffron flavored milk along with the saffron threads, rose water or kewra water on the rice. Also dot with ghee.
Cooking Kathal Biryani
If done cooking on stove top – heat a tava or griddle. When the tava becomes hot, lower the flame. Place a moist kitchen napkin or towel on the pot covering it. Then place the lid tightly. The moist napkin or towel should not touch the biryani. Keep the pot on the tava and dum cook for 25 to 30 mins on a low flame.
If baking in oven – cover the lid of the dutch oven tightly. Preheat the oven to 180 degrees c. Place the dutch oven in the oven and bake for 20 to 25 mins.
Once done, allow the jackfruit biryani to stand for 7 to 8 mins. Later serve the kathal biryani with raita, pickle and papad.