You already know about the most popular attractions in and around Cairo: the pyramids in nearby Giza, the Sphinx, the obligatory camel rides across the desert sands…while those things are all worth seeing and doing, I want to explore a different side of this historic-yet-modern city. I want to try to explain what makes Cairo live and breathe. It's a notoriously hard city to get around, with its labyrinthine streets and traffic that makes L.A.'s freeways look like the open road (Seriously, my knuckles are still white. And I wasn't even the one driving). 
It's so teeming and tangled, in fact, that the Egyptian government is currently in the process of moving the capital – and around 7 million Egyptians – a few miles southeast to a new master-planned community. The yet-to-be-named capital will feature gleaming skyscrapers and gridded streets. It will be much more "user-friendly." But the old city is worth exploring. In fact, I'd say it's a required visit for lovers of food, and culture, and architecture, and history, and everything else that makes a city capture our imagination. Here's what stood out to me…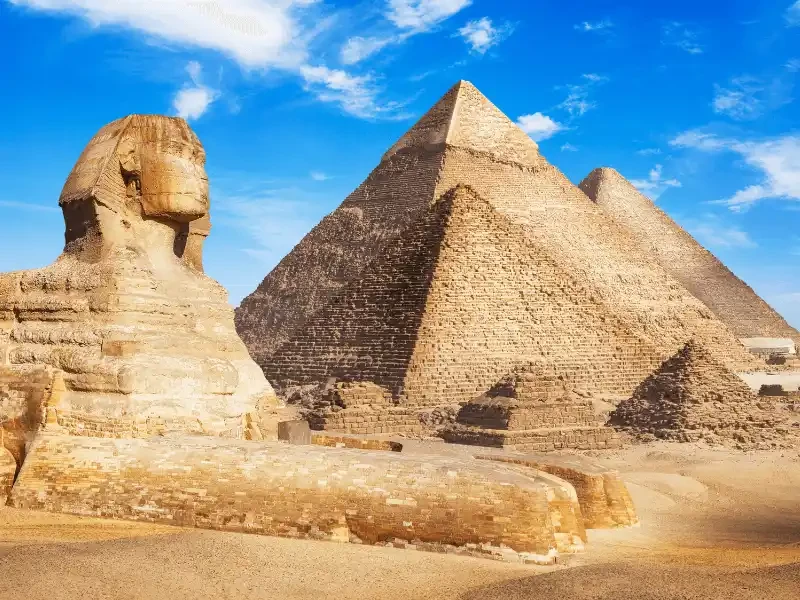 Food
Start your visit with a trip to Khan el-Khalili Market. Like, right after you check into your hotel. It's in the heart of Cairo and can (fortunately) be accessed via subway. If you've been reading my guides, you know I love a good market–especially one that has stood the test of time. This one's been around since the fourteenth century, making it one of the oldest markets I've ever set foot in. It's also one of the liveliest. You can buy just about anything here, but for me, predictably, it was all about the food. 
The market has an entire section devoted to herbs and spices. It's worth the visit for the smell alone. That said, you'll almost certainly wind up buying something, so be prepared to haggle. I've traveled to so many markets that I've become something of a pro at haggling, if I do say so myself. If you're not, don't worry: you will be by the time you leave. 
The market is also lined with cafes and restaurants. The oldest is El-Fishawi, which has been around since 1797(!). Napoleon ate here. It was also a favorite haunt of Nobel Prize-winning novelist Naguib Mahfouz. I have no desire to be an emperor (too much work), but I did enjoy sipping tea and imagining I was a world-renowned writer (hey a girl can pipe dream!). 
As far as restaurants go, I was totally enamored with Andrea El Mariouteya, in nearby Giza. It's a classic spot, owned by the same family for over 60 years. They're known for their crispy chicken, though I loved their homemade bread and wide selection of mezze. And those triangles, on the horizon? Those are just the Pyramids…
Cultural Sites
Well, history buffs and amateur Egyptologists, you've reached the promised land. There are so many significant sites to see here that it's a bit overwhelming, in a good way. I won't get into the pyramid tours, since that's pretty well-trod territory. I'll just say that, touristy as they are, they're worth the excursion. I've seen countless pictures, but I had no idea how truly massive these engineering marvels were until I saw them in person. If you're going, dress comfortably and bring plenty of water. You will be warm.
If you want to see as many Egyptian artifacts as you can in one place, a visit to the Egyptian Museum is a must. Inaugurated in 1902, this the largest collection of Egyptian antiquities on earth. Highlights include the colossal statue of Pharaoh Amenhotep III and his wife Tiye, and the sarcophagus of Queen Kawit. You could spend a whole day here, and if it wasn't for my pesky hummus craving, I would have. 
Of course, Cairo also played a significant role in Islamic history. Which is why I highly recommend a visit to the famous Al-Azhar Mosque. Built in 972 CE, this is Cairo's oldest mosque. It boasts five minarets and a beautiful white marble courtyard. There is no cost to visit the mosque, though several companies offer paid tours of Islamic Cairo. You'll enter through the historic Barber's Gate, so named because this is where students at the nearby Al-Azhar University (the oldest Islamic University in the world, btw) would go to get their haircut. If there is one constant thread throughout history, it's a college student's search for a cheap haircut.Normally I don't recommend cemeteries in my city guides, but a guided tour of Cairo's "City of the Dead" is one of the most unique experiences you are bound to have. This massive cemetery is home to tombs and mausoleums dating back 800 years. It's also home to many living residences: houses, shops, and cafes are interspersed with the ancient tombs, with some families living in the mausoleums. This is a great way to see each layer of Cairo's rich history in one fascinating neighborhood.
Nightlife
Being a majority muslim country, I think Egypt suffers some unfair stereotypes when it comes to nightlife. Alcohol is legal here, though public intoxication is a no-go. But let's face it, you didn't fly all the way out to Cairo to stagger around and puke in an Uber (that's what Bourbon Street is for). Also, if you happen to be visiting during Ramadan, you'll find the hard stuff pretty hard to come by. Otherwise, the drink of choice in Cairo is beer, specifically a bottle of Stella (a local libation, not to be confused with the similarly named Belgian beer) or Sakara. 
Of course, shisha (hookah) is another local nighttime indulgence–one that's much easier to find. The bustling Heliopolis neighborhood is known for some great shisha bars. Yours truly loved the appropriately named Hookah Heliopolis, a lively cafe where I could enjoy a quick bite along with an array of flavored tobaccos. I also loved Alle Botti, an open-air cafe that offers beer and shisha, as well as some fresh, flavorful Egyptian food. As far as I'm concerned, this is the ultimate trifecta.
Garden City, an affluent, tree-lined neighborhood along the east bank of theNile, is home to some iconic bars and cafes. My favorite was The Roof Top, atop the Kempinski Nile Hotel. The views of the Nile – complete with Cairo's skyline glittering behind it – are simply spectacular. Grab a cold bottle of Stella and soak it all in. For a more "down to earth" experience, check out the Ambassador Club, an elegant, wood-paneled lounge in the Cairo Sheraton.
As a self-proclaimed jazz aficionado, I would be remiss not to mention Cairo Jazz Club, on the west bank of the Nile. This cozy club features jazz performances from an international array of musicians. After a hectic day in the crowded city, this was my favorite place to chill out with a perfect cocktail.
Farewell, Cairo
This was a "bucket list" trip for me. Has been ever since I mummified my friend in toilet paper in the first grade (you're a good sport, Maddie!). For much of my childhood, my image of Egypt was defined by mummies and pyramids, but it's so much more than that. Much more than I could ever convey. And certainly more than I could experience in one trip. That's why I've added a new item to my bucket list: go back, as soon as possible.
If you enjoyed this article or have suggestions on how we can improve it, please leave us a comment below. Also, make sure to check out other articles I've created or stories I've written about food culture – here.