After my trip to Rome, it's hard to imagine a more ancient, historic spot to visit. Luckily, my next stop was Athens: one of the world's most historic cities. Athens is not mired in the past though. While tradition plays an important role in the culture and the flavors, Athens pulses with energy and innovation. Here were some of my favorite spots in this incredible city.
Shopping
Greece uses the Euro, so the exchange rate is a little unfavorable for American travelers. That said, Greece is currently a lot cheaper than many of the other major tourist destinations in Europe. This makes it a great place to shop, and not just for postcards of the Parthenon. Here were some of my favorite shopping experiences in Athens:
Ermou Street
Ermou Street is one of the busiest and most vibrant shopping streets in Athens. It stretches from Syntagma Square to Monastiraki Square, and it's pedestrian-only, making it a pleasant place to shop. You can find a wide range of international and local brands, including clothing, shoes, accessories, and cosmetics. Yours truly loaded up on shoes and sandals–and trust me, you'll need a comfortable pair for exploring Athens.
Monastiraki Flea Market
As you probably know, I love just about any bustling market, from food markets to flea markets. Located in the historic neighborhood of Monastiraki, the Monastiraki Flea Market is a must-visit destination for bargain hunters and those looking for unique items. Here, you'll find a diverse array of shops and stalls selling vintage clothing, antique furniture, jewelry, artwork, handicrafts, and souvenirs. The market also offers a vibrant atmosphere with street performers and traditional Greek tavernas, adding to the overall experience. It's a great place to while away the day.
Kolonaki
There is luxury shopping to be found in Athens as well, and the prices are much better than what you might pay for similar brands in London or Paris. Kolonaki is an upscale neighborhood known for its luxury boutiques, designer stores, and high-end shopping. The main shopping streets in Kolonaki are Voukourestiou and Kanari, where you can find renowned international fashion brands, prestigious jewelry stores, and exclusive home décor shops.
Historical Sites
This is probably the section you've been waiting for, along with the food of course (more on that later). Athens has been continuously inhabited since 5,000 BCE, and let me tell you, a city tends to rack up some pretty cool historical sites over the course of 7,000 years. Here were some of my favorites:
The Acropolis
The most famous historical site in Athens can be seen from just about anywhere in the city. This legendary hill contains several of the city's most famous ruins, including the Parthenon (an ancient temple of Athena). During peak season, a ticket to tour the Acropolis costs 20 Euros, and I highly recommend getting one online to avoid the lines (though there is an extra fee of a few Euros). I also recommend getting there as early as possible in the morning, unless huge crowds are your thing.
Finally, don't forget to check out the nearby Acropolis Museum, which houses art and artifacts from ancient Greece. There is a separate entrance fee of 10 Euros, but for this history buff, it was totally worth it.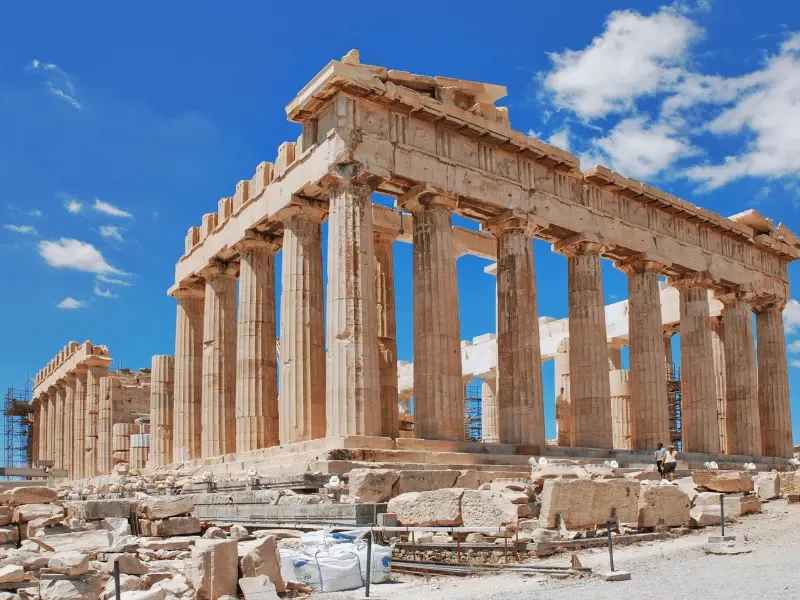 National Archaeological Museum
If the Acropolis Museum merely whetted your appetite for ancient artifacts, make a beeline to the National Archaeological Museum. For just 12 Euros, you'll have access to one of the largest museums in Greece, filled with all kinds of antiquities from all over the ancient world, dating all the way back to the Neolithic Era. My favorite part? Seeing all of the ancient cookware. I guess my chef's hat is always on!
The Ancient Agora of Athens
Located just northwest of the Acropolis, the Agora is not to be missed either. This was the central gathering place and marketplace of ancient Athens. It was a hub of political, commercial, and social activities. Visitors can explore the ruins of various structures, including the Temple of Hephaestus and the Stoa of Attalos (an ancient covered walkway turned museum). Tickets are available for 10 Euros and the crowds tend to be a little smaller than at the Acropolis.
Food
The food in this part of the world is up there with my absolute faves. Mediterranean food tends to emphasize fresh, healthy ingredients. Better still, it's often vegan. And Greek food has been around for thousands of years–plenty of time to perfect the recipes. Here were some of the most delicious things I saw, smelled, and ate in Athens:
Peas Vegan Cafe
As I said, Mediterranean food is often vegan, and Peas Vegan Cafe, located near the Acropolis, is all vegan (happy dance). Here, they do vegan takes on classic Greek dishes. My favorite was their vegan souvlaki. Souvlaki, a popular street food consisting of meat and vegetables grilled and served on a skewer, is reimagined with seitan and mushrooms. Is it wrong that I ate these by the dozen? I'm going with no.
Zisis, Fish in a Cone
With all the lamb, beef, vegetables, fresh baked breads, and olive oil on offer, it's easy to forget that Athens is a coastal town. Seafood, fresh from the Aegean, is a popular meal here, and Zisis, Fish in a Cone is revolutionizing how Athenians eat it. Essentially, they are turning seafood into street food. Zisis sells squid, anchovies, and fried sardines in paper cones, for easy on-the-go eating. They also have a sit-down restaurant, for those with a little more time on their hands.
Tastes of Damascus
Tastes of Damascus is one of my favorite restaurant stories. It was founded in February 2020 (just before the pandemic, but still going strong) by an NGO that supports Syrian refugees and asylum seekers. And the restaurant is committed to both the planet and the community: it's meat-free, sustainably sourced, and leftovers are donated to those in need. I like to say that vegetarian/vegan eating is always for a good cause (you know, the earth), but that's especially true at Tastes of Damascus. It doesn't hurt that the hummus and falafel are absolutely on point.
OROSCOPO
In a city as beautiful, sunny, and vibrant as Athens, it would be almost criminal not to grab at least one outdoor meal. And if you only grab one, make it a meal at OROSCOPO, on the east side of the city. Indoor dining is available, but I highly recommend eating the simple, ingredient-focused Greek dishes in the beautiful wooded courtyard.
Nightlife
Thrillist recently ranked Athens one of the best places to party in the world (https://www.thrillist.com/travel/nation/best-party-cities-in-the-world) and I can see why! This lively city offers a ton of activities for the party-going traveler. Here were some of my favorites:
GB Roof Garden
Remember what I said about outdoor dining? Ditto for outdoor drinking. The GB Roof Garden, perched atop the Grand Bretagne Hotel is the perfect place to grab a craft cocktail (or a sophisticated meal, for that matter). This historic 5-star hotel dates back to the 19th century. But, as the rooftop's stunning views of the Acropolis prove, "historic" is a relative term.
Gazi
Special shoutout to Gazi, a hip nightlife district named for the gasworks that used to dominate the neighborhood. Said gasworks was recently converted into Technopolis, a museum featuring contemporary art and live music. The fun doesn't stop there though; the streets are covered in colorful murals and lined with hip tavernas. It's also a popular spot for festivals. Luckily, I arrived just in time to catch the Athens Jazz Festival, which is held at Technopolis every May (yet another reason to come back!).
Psiri
Psiri (also spelled Psyri) was the undisputed center of Athens nightlife before neighboring Gazi emerged as the "it" spot. But this centrally located neighborhood – one of the oldest in Athens – still knows how to party. The bars here tend to be quite cosmopolitan: The Old Fashioned serves some great imported beers and classic American cocktails, while Juan Rodriguez Bar has an elegant, old-school Latin vibe.
Athens Is a Must-See Destination
Athens was named after Athena, the goddess of wisdom, and you would be wise to get here ASAP. The food is fresh and flavorful, the streets are vibrant, and the historical sites are legendary. But as much as I enjoyed exploring the Acropolis, my favorite activity was just sitting at an outdoor cafe, soaking up the sun and watching the Athenians stroll by, the way they have for thousands of years. I can't wait to do it again.
If you enjoyed this article or have suggestions on how we can improve it, please leave us a comment below. Also, make sure to check out other articles I've created or stories I've written about food culture – here.