Rome: The Eternal City. Its days as capital of an Empire and center of the "known world" are long gone, but it is still a vibrant city and an amazing place to visit. Especially so for history buffs and double-especially for foodies. As they say, Rome wasn't built in a day, and it can't be explored in one either. Here is how I spent my week in one of the world's most iconic cities.
Shopping
Milan may be Italy's fashion capital, but Rome offers plenty of great shopping for fashionistas and collectors alike. Here were some of my favorite spots:
Via dei Condotti
Located near the famous Spanish Steps, Via dei Condotti is Rome's most exclusive shopping street. Here, you'll find luxury fashion brands like Gucci, Prada, Versace, and Bulgari. If you've got a few thousand Euros burning a hole in your pocket, this is a great place to stock up on luxury looks. Or, if you're an itinerant chef like me, it's a great place to window shop!
Monti
This trendy neighborhood, situated near the Colosseum, offers a mix of vintage shops, concept stores, and emerging designer boutiques. Monti is particularly known for its bohemian and alternative fashion scene. I loaded up on several funky outfits in this neighborhood. Who knows, I might even treat you all to a fashion show someday. Just gotta work on my strut.
Trastevere
This charming neighborhood is renowned for its narrow cobblestone streets, vibrant atmosphere, and unique shops. Similar to Monti, this is a bohemian neighborhood, perfect for those seeking vintage clothing, antiques, handmade crafts, and artisanal products. For a really fun and funky clothing store with a great sense of humor, check out Elvis Lives. As the name indicates, this is a quirky shop with an emphasis on vintage–just my cup of tea!
Food
They say "do as the Romans do," but I would like to add that you should eat as the Romans eat, because they do eat well. Here were some of my favorite meals in Rome:
Breakfast
Breakfast in Rome is a simple affair, usually consisting of coffee (cappuccino, of course) and pastries. For some of the best coffee in Rome, I recommend Sant Eustaschio Il Caffe. They have been helping Romans wake up from a stall in the back of Campo de Fiori (one of Rome's oldest and most popular markets, worth checking out in its own right) since 1869. For breakfast pastries, it's hard to beat Regoli Pasticceria, which specializes in a sweet, cream-filled pastry called maritozzi. Is your mouth watering yet?
Lunch
Similar to our lunch, lunch in Rome often consists of quick, filling food like sandwiches and pizza. For a combination of both, check out Trapizzino, which makes unique triangular sandwiches using pizza dough. These pizza sandwiches are then filled with hearty ingredients like oxtail, chicken cacciatore, and tripe. Trapizzino operates several locations throughout Italy and even one in NYC. 
For pure pizza goodness check out Pizzarium, conveniently located near the Vatican. Roman style pizza is defined by its thin, airy, crispy crust, as well as sauce and toppings that go all the way to the edge. Pizza in Rome is often served al taglio or "by the slice," which in Rome means square pieces cut with scissors. And for those of you – like me – who love some good foodie TV – Pizzarium's founder, Gabriele Bonci, was recently featured on the influential Netflix show Chef's Table Pizza. And believe me when I say, his pizza tastes as good as it looks on TV.
Dinner
Like many Europeans, Romans tend to eat a later dinner than their American counterparts: the peak dinner rush happens around 9 pm. This is the meal to splurge on, so feel free to load up on pastas and entrees, washing it all down with a good glass of wine. 
Colline Emiliane, located near the Trevi Fountain, has been a local favorite for northern Italian pastas since 1931. Favorites here include a rich, autumnal pumpkin pasta and fresh bolognese. For a splendid take on one of Rome's most famous pastas – cacio e pepe – head to Grappolo d'Oro. Located just blocks from the Pantheon, this hip osteria specializes in this simple, beloved combination of spaghetti, black pepper, and pecorino Romano cheese. 
And for my fellow vegans, I haven't forgotten you. I loved my meal at Rifugio Romano, a hospitable, old-school trattoria that serves both vegan and non-vegan versions of classic Italian dishes. I'm glad I found this place when I did: I was starting to get some serious FOMO seeing and smelling all the pasta, pizza, and cured meats. But I'm proud to say I stood strong…barely.
Historical Sites
I apologize, I've been racking my brains but really can't think of any interesting historical sites to report. Jk, I don't even know where to start with the history in this city. I could do the cliche thing and tell you about how breathtaking the Colosseum was, or how I got chills walking through the ruins of the Pantheon, or how I could have spent days exploring The Vatican City. But where's the fun in that? Here are some of the less prominent (and far less crowded) historical sites that I was thrilled to explore:
Palatine Hill
Palatine Hill is the most central of Rome's Seven Hills, and the legendary birthplace of Rome. It is an archaeological site that offers incredible views of the Roman Forum and Circus Maximus. And if you have read any of my other travel guides, you know that I am a sucker for a good view. Best of all, it's a relatively gentle climb to the top of the hill and admission is free.
The Catacombs of Rome
Call me morbid, but I've been super into catacombs ever since exploring the famous underground tombs of Paris. The Catacombs of Rome did not disappoint. There are several catacombs in and around Rome that offer a unique and fascinating experience. These underground burial sites were used by early Christians and contain intricate tunnels with tombs and frescoes. This is a cool tour for art lovers and history buffs alike. 
Baths of Caracalla
I've always thought that a hot bath is one of life's most relaxing pleasures, especially when there is a glass of wine within arm's reach. That's why I jumped at the chance to explore the ancient Baths of Caracalla. These ancient Roman public baths were built during the 3rd century AD and are among the largest and best-preserved baths in the city. Visitors can explore the extensive ruins and get a glimpse into the luxurious bathing practices of ancient Rome which, frankly, puts our modern bath game to shame.
The Trevi Fountain
Although not an ancient historical site, the Trevi Fountain is a must-visit landmark in Rome. It is the largest Baroque fountain in the city and is famous for its stunning design and the tradition of throwing a coin into the fountain to ensure a return to Rome. For me, it helped that the fountain made unforgettable cameos in two of my favorite films:  Roman Holiday and La Dolce Vita. It also made an appearance in Lizzie McGuire Movie, which – while not on my shortlist of classics – is a guilty pleasure I have to own up to.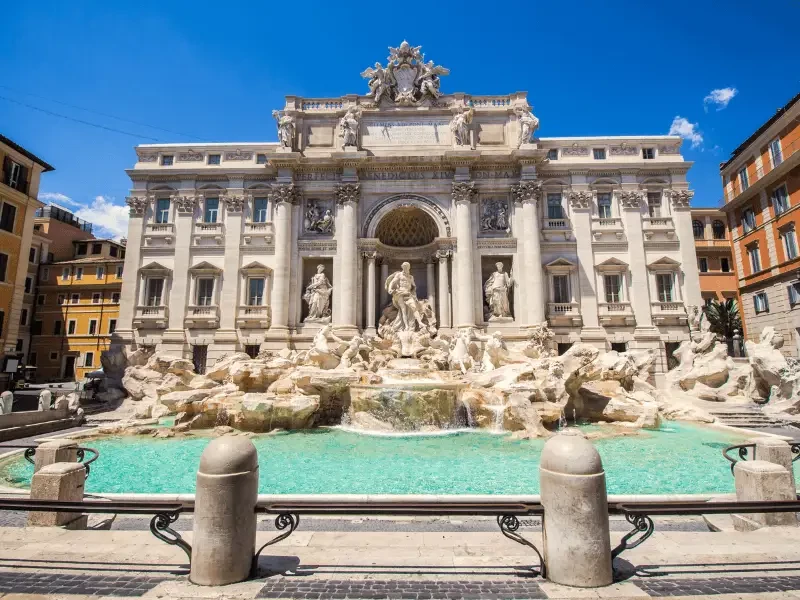 Nightlife
As you can see, Rome has a ton of daytime activities, but there is plenty to keep you busy at night too. Here were some of my favorite activities.
Bars and Nightclubs
If you love to party till the break of dawn at bars and nightclubs, Rome is the town for you. Ex Dogana is a former customs house that has been transformed into a vibrant cultural space, hosting various events including DJ sets, live music performances, and art exhibitions. Trust me, it's much cooler than going through customs. Situated near the Pantheon, Salotto 42 is a chic bar with a cozy atmosphere, offering a wide selection of cocktails and an extensive wine list. And I'm here to tell you that the wine in Rome is as good as you'll find anywhere. Finally, for cocktail lovers, La Maison is an elegant cocktail bar with live music, just blocks away from the Spanish Steps (perfect for a late-night Insta photo).
Piazzas and Alfresco Delights
Rome's vibrant nightlife is not limited to enclosed spaces; it spills out onto the charming piazzas and narrow streets that wind through the city. Piazza Navona, Campo de Fiori, and Trastevere are just a few of the areas that come alive after dark. Locals and tourists alike gather to socialize, enjoy street performances, and indulge in delicious food and drinks. Sidewalk cafes offer the perfect spot to savor a late-night espresso or a glass of wine while immersing yourself in the city's lively atmosphere.
Live Music and Entertainment
As my regular readers know, I am a sucker for live music, and especially jazz music. Music lovers will find a plethora of options to satisfy their cravings for live performances in Rome. From intimate jazz clubs to grand concert halls, the city boasts a vibrant music scene. Renowned venues such as the Auditorium Parco della Musica and the Teatro dell'Opera di Roma host world-class orchestras, operas, and ballets. For those seeking a more intimate setting, the Trastevere district (as you might have noticed, one of my favorite areas in Rome for all things cool) is known for its cozy bars featuring live music ranging from jazz and blues to rock and folk.
Arrivederci, Roma!
My trip to Rome was a whirlwind of activities and flavors, and I wouldn't have wanted it any other way. The birthplace of one of the world's largest empires has seen many civilizations come and go, each leaving their mark on this magical city. Follow my guide, ask for recommendations, but don't be afraid to wander the narrow, timeless streets. You'll find beauty and mystery at every turn. Now, if you'll excuse me, I need to throw a handful of coins in the Trevi Fountain. I will be back.
If you enjoyed this article or have suggestions on how we can improve it, please leave us a comment below. Also, make sure to check out other articles I've created or stories I've written about food culture – here.