I'm no legal expert, but I'm pretty sure there's a law that every foodie has to visit Paris at least once in their lives. Well, I can avoid foodie jail, because I have finally made my pilgrimage to this magical city. And I'm here to tell you that it did not disappoint. Yes, the food was every bit as delicious as I had hoped. But I fell in love with so much more than that: I fell in love with its museums, its streets, its cafes, its music, its people..its life. Here are some of the places that impacted me the most.
Food
When you're in a city as delicious as Paris, it's a sin to skip a meal (but there's no shame in having multiple lunches, thankfully). And each meal in this city was something special. Here were some of my favorites:
Breakfast
Do you typically sleep through breakfast? If so, I totally get it, but trust me, you're going to want to wake up for the "most important meal of the day" while you're in Paris. Enjoying a morning coffee and pastry on the streets of this lively city is one of life's unique pleasures. Breakfast here tends to be light (think croissants and bread with jam) though there are plenty of places where you can load up on calories and protein. For some of the best croissants in Paris, I recommend San Boulangerie. This artisan bakery takes no shortcuts, even using their own starter for its legendary croissants. And, believe me, you can taste the difference. 
Lunch
Unlike here, where lunch tends to be a lighter meal (though I have certainly chowed down on some mid-day meals in my time), lunch in France can be a somewhat lengthy, filling affair. Appetizers and/or salads are often eaten with a Parisian lunch, in addition to an entrée. Lunch also happens to be a great time to people-watch from your table at an outdoor café. That's why I recommend snagging an outdoor table, weather permitting. Or, if you want the full outdoor experience, grab a blanket, a picnic basket, and a bottle of wine and eat at one of the city's many parks. Just because it's touristy doesn't mean it can't also be fun!
Luckily, you have many great options for lunchtime cafes and markets. One café that I love is Le Bimbo in the historic Montmartre neighborhood. The name might be humorous ("Le Bimbo" means "The Babe"), but the food at this woman-owned restaurant is no joke. The eclectic menu has foods from outside of France – like burgers and gyoza – as well as more traditional French dishes, like crème brulee. Either way, you can't miss. To load up on picnic provisions, check out the Marche Bastille, near the site where the infamous prison once stood. This historic market specializes in breads, cheeses, sausages, meats, and seafood.
Dinner
One thing to keep in mind is that Parisians eat dinner late, like 8:30 or 9:00 p.m. If you observe an earlier dining schedule, you can use this to your advantage, by dining during the less crowded hours. You'll be hard-pressed to find a place open for dinner before 7 pm though! Dinner is a great time to explore the myriad cuisines that Paris has to offer. The city is home to a huge community of immigrants from Africa, East Asia, and the Middle East. For a highly acclaimed fusion of all three, check out Mosuke in the 16th Arrondissement (districts in Paris are numbered). The restaurant, named for Japan's only samurai of African descent, serves bold, creative dishes like lobster in miso sauce and dried, fermented cassava pulp. 
If you want to eat classic French food like a local, nothing beats a good bistro. French bistros are often lively neighborhood restaurants that serve the kind of comfort food that keeps the regulars coming back. For this one-of-a-kind experience, I recommend Chez L'Ami-Jean, on the city's artsy Left Bank. This cozy, very popular joint serves classic French dishes like roast lamb and pigeon.
Shopping
Paris has long been considered one of the world's great fashion cities. And I'm happy to report that it still holds this distinction. But it's not all haute couture in this shopper's paradise: Paris has something for every taste and every budget. Here were some of my favorite shopping spots.
Marche aux Puces de Saint-Ouen
Antique-lovers, welcome to paradise. With over 3,000 vendors, Marche aux Puces de Saint-Ouen is the largest antique market in the world. And if the name doesn't exactly roll off your tongue, feel free to take a cue from the locals and call it "Les Puces" (literally, "The fleas"–this is where our term "flea market" comes from, though you shouldn't have to worry about any unwanted insects these days). If it's vintage, you'll find it here, whether you are looking to break the bank or just pick up a cheap souvenir. The market is open Saturday, Sunday, and Monday. And while it's less crowded on Monday, you'll also see a lot fewer vendors. Since I love a bustling market, my weekend visit was a win-win for me.
Galeries Lafayette Haussmann
This century-old department store is a work of art, and I'm not just talking about the chic inventory. This ornate, glass-domed structure stands as one of the city's great Art Nouveau buildings. If you're an architecture buff, you'll at least want to take a peek at this beautiful building, even if you don't plan on shopping. But if you do plan on shopping, you've come to the right place. You can find all the big-name brands here, from Dior, to Versace, to Dolce & Gabbana. But there is also plenty to be had for less extravagant spenders, like yours truly. 
Nightlife
I've been enamored with Paris nightlife ever since I first saw Moulin Rouge back in high school (the first of many, many viewings). And yes, I did go to the Moulin Rouge when I was in Paris. And no, I don't regret it, despite the astronomically priced tickets and hefty tab. But there are so many other cool – and much more affordable – nightlife spots to explore in the City of Light. Here were some of my favorites:
Harry's New York Bar
I know what you're thinking: "Really, Jade, a 'New York bar' in Paris?" But Harry's New York Bar – located less than a mile northwest of the Louvre – is a legendary watering hole. It was founded in 1911 by an American ex-jockey named Tod Sloan ("Harry" was the original bartender), and it's been the rendezvous point of choice for thirsty expats ever since. Not to name-drop, but Ernest Hemingway, F. Scott Fitzgerald, Jack Dempsey, and George Gershwin were all regulars (OK, I guess I am name-dropping a little bit, but can you blame me?). The French 75 cocktail was invented here, and the bar makes a strong – though disputed – claim to being the birthplace of the Bloody Mary. If you want to drink like a Jazz Age bon vivant, this is the place to do it.
Le Caveau de la Huchette
Speaking of jazz, you may have noticed that I like to hit up a jazz club in just about every city I visit, and Paris has long been one of the world's great jazz cities. One of the most renowned jazz clubs in the city is La Caveau de la Huchette. This intimate club in the Latin Quarter has been the go-to spot for jazz lovers like myself since 1949, and the music is every bit as swinging as it was in those postwar days. Dancing is definitely encouraged, even if you're as awkward as I am. 
The Eiffel Tower
Ok, I told myself I wouldn't do the typical guidebook thing and write about the Eiffel Tower, but this is a lesser-known side of Paris' most famous landmark. Did you know that the tower literally sparkles at night? Ever since 1985, it's been illuminated by over 300 shimmering spotlights dispersed throughout the tower. The lights come on at nightfall and sparkle for five minutes at the start of every hour until 11 pm. Even if you don't plan on going in the tower, it's definitely worth strolling by on your way to the clubs.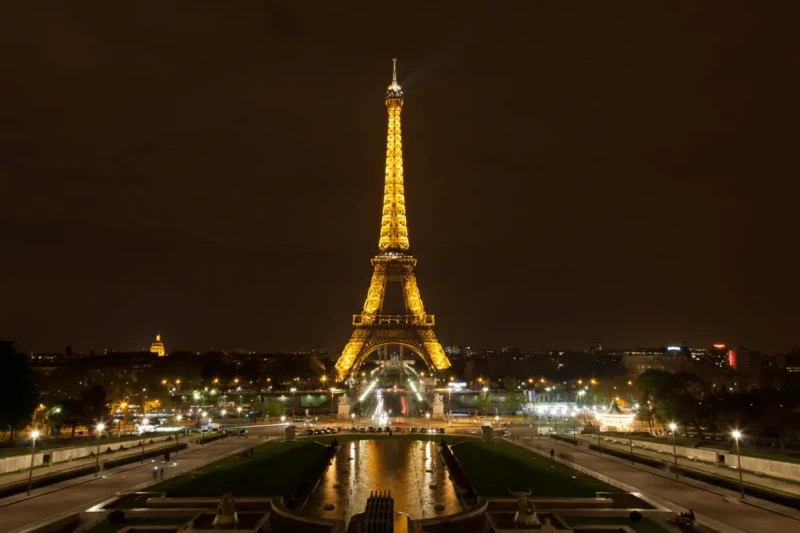 Arts and Culture
Where do I even start with arts and culture in Paris? It's almost as iconic as the food, and that's a chef talking. Did you know that Paris has more museums than any other city in the world? You could spend a year here and not fully explore them all. And from Impressionism, to Surrealism, to Art Nouveau, the city's influence on the visual arts has been incalculable. So how do you explore such a monumental scene? Let's start at the top.
The Louvre
Let's face it, you're going here. With nearly 8 million visitors in 2022, this is the most visited art museum in the world (America's most visited art museum, New York's Metropolitan Museum of Art, pulled in a paltry 3.2 million). There are a few things that you can do to make the most out of your visit to this absurdly crowded museum. The first is, accept the fact that you're not going to see everything. I'd like to think I move pretty quick after years in busy restaurant kitchens, but there was no way I was taking in all 35,000 displayed works. Instead, focus on the collections that you like best. Definitely buy your ticket online to avoid additional lines. It costs 2 Euros more than buying at the museum, but if it's true that time is money, you'll be saving bundles. 
Speaking of saving…there is a decent chance someone in your family/group qualifies for a free ticket. Anyone under 18 gets in free, as well as art teachers, and disabled visitors (and those accompanying them). Check out their site for the full list: https://www.louvre.fr/en/visit/hours-admission#visitors-eligible-for-free-admission. Also keep in mind that the first Friday of every month (except July and August) is free for everyone. But of course, "totally free" means "totally crowded," so factor that into your decision. Luckily the Louvre is open relatively late for an art museum (this is Paris, after all), closing at 9:45 pm (last entry is an hour prior). Since you'll likely be awake with jet lag, might as well come later when the crowds have died down. I did, and I was able to see the Mona Lisa without having to wade through a throng of art lovers.
Sacre-Coeur
Of course, I was a little bummed that the famed Notre Dame Cathedral still hadn't reopened after its tragic fire in 2019. But I took solace in the fact that the Basilica of the Sacred Heart, or Sacre-Coeur, was still open to tourists. You've probably seen pictures of this beloved cathedral, even if you hadn't heard the name. It's the all-white, three-domed building that stands on the summit of a hill (the aforementioned Montmartre) overlooking Paris. Completed in 1914, it's younger than most of Europe's famous basilicas, but no less stunning. It's open to visitors from 6:30 a.m. to 10:30 p.m. and admission is free (my kind of price!). And the panoramic view of Paris from the top of the hill is rivaled only by the view from the Eiffel Tower. Annnd, I mentioned it again. I swear that's the last time.
Musee d'Orsay
Housed in a beautiful former train station, Musee d'Orsay is Paris' other iconic art museum. Unlike the Louvre, this museum has a very specific collection: French art dating from 1848 to 1914. That might sound like an incredibly limited scope, until you think of all the great French artists who were working during that time: Van Gogh, Monet, Manet (I'll never stop confusing the two), Renoir, Degas, Cezanne, and so many others. For anyone even remotely interested in Impressionism and Post-Impressionism, a visit to Musee d'Orsay is a must. Like the Louvre, it's open late and offers plenty of freebies. Here, admission is free on the first Sunday of the month. So budget-conscious art aficionados can hit up the Louvre on Friday and Orsay on Sunday. You'll have to find something to do on that Saturday in between, but in this city, that shouldn't be a problem.
Paris on my Mind
I'm writing this article on my laptop at a sidewalk cafe in New York. As a good New Yorker, I'm supposed to finish up, pay up, maybe allow myself one last wistful thought of Paris, and go about my overwhelmingly busy day. But one of the things I loved most about Paris was its deliberate pace. Although it's a big, hectic city, it's meant to be savored. Dinners can last up to 3 hours. Museums are meant to be meandered through. And sidewalk cafes exist for hanging out and watching the city stream by. There is a reason that this city's most famous statue is of a man just sitting there, thinking. So, as an homage to one of my favorite cities, I think I'll have another cup of coffee. 
If you enjoyed this article or have suggestions on how we can improve it, please leave us a comment below. Also, make sure to check out other articles I've created or stories I've written about food culture – here.